Pyramidenkogel Tower in Klagenfurt
Pyramidenkogel was first built in 1950 as an observation tower, 27 meters high and made of wood. There were no roads at the time, so it was a difficult climb up to the top of the hill. Later, another building was erected here, but the current one was built in 2013. It is the tallest wooden structure in the world, with an antenna tip 100 meters high. Visitors can climb up to 71 meters.
People come to this tower to observe the surroundings and look down from above. You can take the elevator up to the floor where visitors can go. Then you can use the stairs to climb a few meters higher. When you get to the top, the entire lake and Klagenfurt are at your feet. Looking at nature from this height is intoxicating. Afterwards, if you want to descend the stairs while admiring the view, you have to climb 441 steps, but you can use the elevator again for a quick descent.
If the view from the observation tower is not enough for you and you want to get a little adrenaline rush in Klagenfurt, take a ride on the highest indoor slide in Europe. This slide system, which allows you to be down in a short time instead of taking the elevator or using the stairs, is very exciting. To use this slide system, where you can go down from the viewing platform at an average acceleration of 25km/h, you need to pay 4€ more when buying a ticket downstairs. If you think about it, for the price of 5 slides, you get 2 more for free. It was one of the most exciting experiences for us. You can think of the slide as a waterless version of an aquapark slide.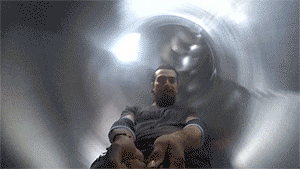 One of the other activities you can do in Pyramidenkogel is a zipline-like descent from the viewing platform to the parking lot. If you want to go directly to the parking lot on a steel rope, you can use this. It is called FLY100 and you have to pay 15€ in addition to the entrance fee.
What are the entrance fee and visiting hours at Pyramidenkogel?
Tickets can be bought inside the building. The entrance fee to Pyramidenkogel is 13€ for adults, which is approximately 60TL. If you go for 2 people, it corresponds to 120TL. It is debatable whether it is worth this price. There is a great view up there, but you don't even stop for 20 minutes because it is enough.
If you go in winter, it is closed during heavy snowfall, otherwise it is open every day.
If you want, you can buy a combined ticket with Minimundus and the boat trip for cheaper than all three combined. Opening hours vary according to the season. In the summer months, it is open from 09:00 to 21:00, while in the winter it is shorter and can be visited between 10:00 and 17:00.
Where is Pyramidenkogel and how to get there?
If you are driving to Pyramidenkogel, which is located south of Wörthersee, one of the largest lakes in Klagenfurt, there is a free parking lot where you can park your car.